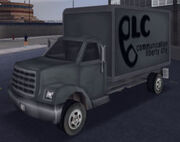 The Yankee is a large straight commercial truck that is featured in all of the GTA III era games (including Manhunt and Manhunt 2).
Overview
Edit
In GTA games the Yankee is generally based on a 1980-1993 Ford F-700. However, in Manhunt and Manhunt 2 it's a Chevrolet Chevy Van box truck.
Locations
Edit
Manhunt
Manhunt 2
In both Manhunt games, the Yankee is much longer than in GTA III era's Yankee.
This is the single civilian truck in Manhunt that is not wrecked.