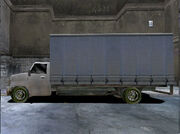 The Yankee is a large straight commercial truck that is featured in all of the GTA III era games (including Manhunt and Manhunt 2).
Overview
Edit
The Yankee is generally based on the Ford L-Series trucks. In the Manhunt series, GTA: Vice City, GTA: San Andreas and GTA: Vice City Stories the container is longer than in the GTA III and GTA: Liberty City Stories.
Locations
Edit
Manhunt
Manhunt 2
In both Manhunt games, the Yankee is much longer than in GTA III era's Yankee.
This is the single civilian truck in Manhunt that is not wrecked.