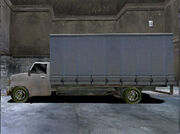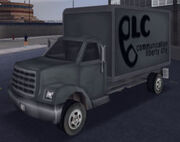 The Yankee is a large straight commercial truck that is featured in all of the GTA III era games (including Manhunt and Manhunt 2).
Overview
Edit
In GTA games the Yankee is generally based on the Ford F-700. However, in Manhunt and Manhunt 2 it's a Chevrolet Chevy Van box truck.
Locations
Edit
Manhunt
Manhunt 2
In both Manhunt games, the Yankee is much longer than in GTA III era's Yankee.
This is the single civilian truck in Manhunt that is not wrecked.
Ad blocker interference detected!
Wikia is a free-to-use site that makes money from advertising. We have a modified experience for viewers using ad blockers

Wikia is not accessible if you've made further modifications. Remove the custom ad blocker rule(s) and the page will load as expected.