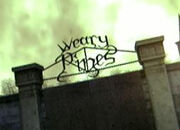 The
Weary Pines Cemetery
is cemetery located in
Whispering Hill's
in
Cottonmouth
and Daniel's mind in
Manhunt 2
. The level
Personality Clash
is set here. This is the place where Daniel's personality fights with Leo's personality and the phantoms of
Dr. Pickman
,
Michael Grant
and
The Watchdogs
.
The cemetery serves as the resting place for Mrs. Lamb and the hunters killed during the game. There's a system of catacombs under the cemetery and several buildings near it including a church.
There are weapons hidden behind the cemetery gate and they're unreachable without a trainer to fly past the gate.
In the beta, Personality Clash was named Cemetery. Most likely because they hadn't come up with a name for the level in that point of development.
The cemetery was originally called Whispering Hills.
Ad blocker interference detected!
Wikia is a free-to-use site that makes money from advertising. We have a modified experience for viewers using ad blockers

Wikia is not accessible if you've made further modifications. Remove the custom ad blocker rule(s) and the page will load as expected.