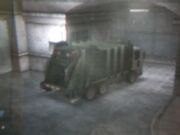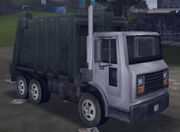 The
Trashmaster
is a garbage truck which is appears in
Manhunt 2
, Grand Theft Auto III, Grand Theft Auto: Vice City, Grand Theft Auto: San Andreas, Grand Theft Auto: Liberty City Stories, Grand Theft Auto: Vice City Stories and Grand Theft Auto IV. In
Manhunt 2
, Danny and Leo must jump into the Trashmaster, so they can escape from the Dixmor Asylum.
Overview
Edit
In Manhunt 2, GTA III and GTA Liberty City Stories, the Trashmaster resembles a Mack MR. However, in Manhunt 2 it has different headlights and grille, resembling a Ford Cargo(known as Ford CF-7000 in the USA.)
The Trashmaster in Manhunt 2 has a Liberty City license plate.
Ad blocker interference detected!
Wikia is a free-to-use site that makes money from advertising. We have a modified experience for viewers using ad blockers

Wikia is not accessible if you've made further modifications. Remove the custom ad blocker rule(s) and the page will load as expected.