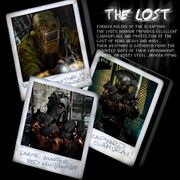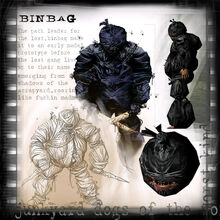 The Lost was a gang that was removed from Manhunt.
The Lost's armor provides excellent camouflage and protection at the risk of being noticeably noisy and hard to move around in. Their leader is Binbag. Their weapons were most likely going to be pieces of rusty steel, broken pipes, glass shards, etc.
The Skinz obtained some of their features in the final version of the game, like roaming the scrapyards and the use of Nailguns. It's not exactly known why the gang was removed, but Binbag's early game model suggests they were closer to being in the game than The Camheads or The Clowns.
Ad blocker interference detected!
Wikia is a free-to-use site that makes money from advertising. We have a modified experience for viewers using ad blockers

Wikia is not accessible if you've made further modifications. Remove the custom ad blocker rule(s) and the page will load as expected.