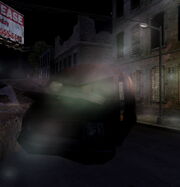 The
Pony
is a goods van that made its first appearance in Grand Theft Auto III and went on to feature in all of the following games of the GTA III Era (including
Manhunt
).
In GTA III, it has a quite generic design, but it's somewhat similar to a 1996-2002 Chevrolet Express. In Vice City and San Andreas it has an older design, based on a 1979-1980 Dodge Tradesman or a 1981-1985 Ram Van. The GTA III rendition is seen as a burned out wreck in Doorway into Hell and Road to Ruin. The Vice City version is seen as a wreck in Born Again and Drunk Driving. However, it has a third variant based on a 1992-1996 Ford Econoline, which hasn't appeared in any GTA game. This one is used as a base for the Ambulance and the Valiant Videos version.
Ad blocker interference detected!
Wikia is a free-to-use site that makes money from advertising. We have a modified experience for viewers using ad blockers

Wikia is not accessible if you've made further modifications. Remove the custom ad blocker rule(s) and the page will load as expected.