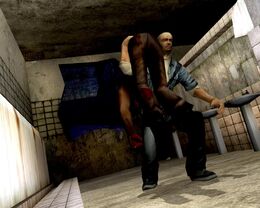 Road to Ruin
is the 3rd scene in
Manhunt
and
Cash
's third and final encounter with the
Hoods
.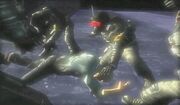 Cash has made much progress in killing the Hoods and now must make his way to the cellar of the
Carcer City Library
. He makes his way through the streets and buildings, killing all the Hoods in his way.
Cash finds the remaining Hoods lurking in the cellar. After dispatching them, he heads out to the street where he is confronted by the Cerberus, hired by Starkeweather to take Cash to the next location. Cash takes a beating from them and is thrown in the back of a van.
Weapons and Pickups
Edit
Walkthrough
Edit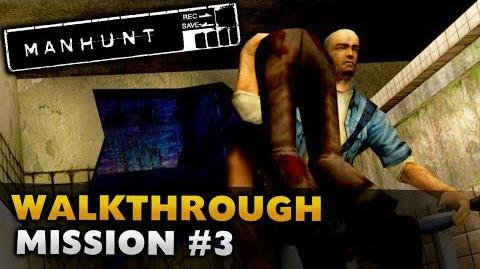 This level features a broken shadow. It can be found at the alley behind the library. Entering it won't make Cash invisible for the hunters.
The public toilet towards the beginning is much like the one in Belleville Park in GTA III
This is the first scene where Cash speaks. As he runs into the Cerberus he will say "Oh, shit!".
There is no glass shard in this level.
Ad blocker interference detected!
Wikia is a free-to-use site that makes money from advertising. We have a modified experience for viewers using ad blockers

Wikia is not accessible if you've made further modifications. Remove the custom ad blocker rule(s) and the page will load as expected.