Police Cruiser
Talk

0
535pages on
this wiki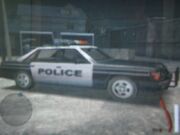 Police cruisers are emergency services vehicles primarily used by Carcer City Police Department, Cops and S.W.A.T. in both games. In Manhunt 2, the police car might explode if Leo shot it with the Shotgun.
In these two games, the vehicle resembles a 1980's Ford LTD, and they both feature a black and white livery with powerful searchlights.
The police car is very similar to the Police Cruiser in Grand Theft Auto Vice City and Grand Theft Auto Vice City Stories.
The police cruisers in Manhunt and Manhunt 2 have a Florida License Plate from GTA Vice City, meaning that Rockstar Games used the police cruiser from Vice City as the basis for C.C.P.D and the city police from Manhunt 2.
The police cruisers in Manhunt 2 are exactly the same police cruisers from the first Manhunt, only that the C.C.P.D logo is eliminated. Some police cruisers have their windows blank. Also, they have a big light behind the sirens.
In Manhunt and Manhunt 2, the police cruisers doesn't feature a police state seal or a city police logo.
In Manhunt, the police cruisers' sirens are always flashing, but in Manhunt 2 the sirens doesn't.
In Manhunt 2 strangely, you can hear police sirens, but as mentioned at 4th trivia, the sirens aren't turn on and oddly not flashing.
The single difference beetwen police cruisers from both Manhunt games are the wheels design.
In both Manhunt games, the colors (white and black) from police cruisers resembles the present-day L.A.P.D police cars and the white stripes which stretch along the sides are likely resembles the N.Y.P.D blue stripes.
Location
Edit
Manhunt 2
Edit