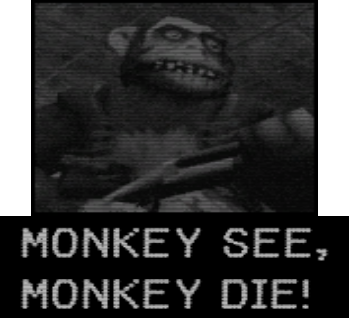 Monkey See, Monkey Die is a bonus scene in Manhunt, unlocked by achieving a least 3 stars in Mouth of Madness, Doing Time, Kill The Rabbit, Divided They Fall and Press Coverage.
Cash starts inside Carcer City Zoo armed with a Sawn-Off Shotgun, under attack by the Monkeys. He then must kill them and make his way towards the exit, killing all the Monkeys in his way.
Weapons and items
Edit
Ad blocker interference detected!
Wikia is a free-to-use site that makes money from advertising. We have a modified experience for viewers using ad blockers

Wikia is not accessible if you've made further modifications. Remove the custom ad blocker rule(s) and the page will load as expected.