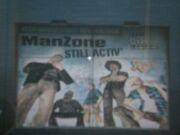 Man Zone is a band featured in Manhunt 2 made up from five singers. The band turned up in 1967. In 2007 the group is giving a concert in Cottonmouth as seen on a billboard in the level Assassination.
In Grand Theft Auto IV, the same billboard can be seen as a poster outside of the "Pirate" store in Star Junction in Algonquin.
Three of the five singers appeared in GTA San Andreas:
The first man is Marco Forelli (from the mission Saint Mark's Bistro)
The second man is a hobo from San Fierro.
The third man is the heckler from the "Madd Dogg" mission.
The fourth man is the farmer pedestrian.
The fifth man, is the old hipsanic man ped.