Los Santos, San Andreas is the first fictional city encountered in Grand Theft Auto: San Andreas. It is also based on the real-life Los Angeles. Los Santos translates to 'The Saints', a play on Los Angeles, meaning 'The Angels'. This also applies to the two cities' nicknames - "The City of Saints" and "City of Angels". With all of the street and gang violence, working girls, corrupt cops, and strip clubs/pornography, the name of the city is considered a joke in the game.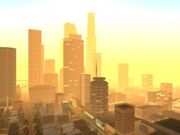 Like Los Angeles, Los Santos is a huge, sprawling co-mingling of cultures and perspectives, full of two-bit hoodlums and small-time actors. The population of over 3 million people is divided into 32 districts, which are home to movie and television studios, multi-million dollar estates, crack-ridden ghettos, and a busy international airport. Numerous roads and a central rail line connect Los Santos to San Fierro and Las Venturas..
The Toy Corner store from Manhunt can also be found in Los Santos.
Action figures of James Earl Cash and Piggsy can be found in the Toy Corner, behind the counter.