Collectibles
Edit
A list of lures, items and 
Weapons
 that were removed from the game, recovered from leftover entity designators found in the Manhunt.exe file of the PC version.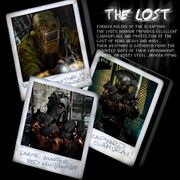 Sniper_Rifle_Silenced_(CT)
CT_PIGSY_WIRE (Wire execution on Piggsy)
IcePick_(CT)
Tripwire_(CT)
Water_Bottle_(CT)
Lighter_(CT)
Cash_(CT) (Cash Bundle?)
Torch_(CT) (Flashlight, later used in Manhunt 2)
N_Vision_(CT) (Night vision)
Painkillers_(CT) (This isn't used, G_First_Aid is used instead)
Y_First_Aid_(CT) (This isn't used, G_First_Aid is used instead)
Speed_Boost_(CT)
Strength_Boost_(CT)
Shooting_Boost_(CT)
Reflexes_Boost_(CT)
Health_Boost_(CT)
K_Dust_(CT)
Broken_Bottle_(CT)
Jury_Blades_(CT)
Pipe_(CT)
Wooden_Bar_(CT)
Fire_Axe_(CT) (Later used in Manhunt 2)
Hockey_Stick_(CT) (Later used in GTA: Liberty City Stories)
W_B_Bat_Nails_(CT) (Still used in Doing Time, can still be obtained with the debug menu/entity.inst editing.)
CT_FIREWORK
CT_AMMO_TRANQ
CT_AMMO_MGUN
Glock_Torch_(CT) (Light handgun with flashlight)
CT_GLOCK_SILENCED (Silenced Light handgun)
Grenade_(CT)
Molotov_(CT)
Exp_Molotov_(CT)
Tear_Gas_(CT)
F_Grenade_(CT)
Firecrackers_(CT)
Rag_(CT)
Chlorine_(CT)
Meths_(CT)
HCC_(CT)
D_Beer_Guy_(CT)
D_Merc_Leader_(CT)
D_Smiley_(CT)
D_Huntlord_(CT)
E_L_Sight_(CT)
S_Silencer_(CT)
Radio_(CT)
Bar_Key_(CT)
Syard_Comb_(CT)
Camera_(CT)
Body_P1_(CT)
Body_P2_(CT)
Prec_Key_(CT)
Prec_Card_(CT)
Prec_Docs_(CT)
Pharm_Hand_(CT)
Est_G_Key_(CT)
Est_A_Key_(CT)
Doll_(CT)
Antidote_(CT)
CJ_DOLL1_(CT)
CJ_DOLL2_(CT)
CJ_DOLL3_(CT)
Katana (Seen in the Lost artwork. Later used in Manhunt 2)
Executions
Edit
Jump executions were removed. Jump audio for the Machete and Blackjack are in the audio files for Manhunt 2.
The original soundtrack from Born Again and Doorway into Hell still exists in the PS2 version audio files.


Manhunt Soundtrack - COM TOWE (Unused)
Ad blocker interference detected!
Wikia is a free-to-use site that makes money from advertising. We have a modified experience for viewers using ad blockers

Wikia is not accessible if you've made further modifications. Remove the custom ad blocker rule(s) and the page will load as expected.