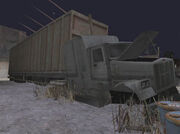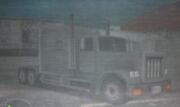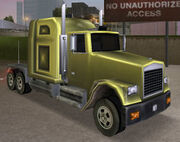 The Linerunner is a semi-truck, featured in Manhunt and Manhunt 2 and also in the GTA III Era.
In GTA III, it's based on a Kenworth W-900, but in Vice City it's a Mack RW Super-Liner. The GTA III rendition is seen as a wreck in Denton's Junkyard. The Vice City rendition is seen found in Manhunt 2 at the gas station and at the warehouses.
Locations
Edit
Manhunt 2
Edit
In Manhunt, there's a bottle of Painkillers inside the container connected to the truck. To get to it, Cash must climb a ladder behind that container.