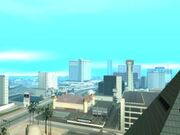 Las Venturas, San Andreas is the third and final fictional city the player encounters in Grand Theft Auto: San Andreas. It is based on Las Vegas, Nevada, and like its real-life counterpart, Las Venturas is a gambling city located in a desert region, with casinos such as The Camel's Toe and Caligula's Palace. Las Venturas translates to 'The Fortunes', whilst Las Vegas translates to "The Meadows" or "The Grasslands".
Residents
Edit
At the police station there are wanted posters for Cash and a few Hoods gang members. This suggests that Cash was probably from Las Venturas and that The Hoods might have had territory in Las Venturas around that time.
Ad blocker interference detected!
Wikia is a free-to-use site that makes money from advertising. We have a modified experience for viewers using ad blockers

Wikia is not accessible if you've made further modifications. Remove the custom ad blocker rule(s) and the page will load as expected.