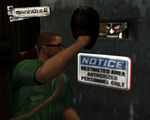 Georgey Boy was a member of The Pervs. He was known as simply "George" in the beta; this was probably changed to avoid confusion with the Asylum Orderly of the same name.
Georgey Boy was one of the Pervs patrolling the entrance for the Fetish Dungeon after Daniel Lamb broke into the Strip Club, and was decapitated by Daniel in order to fool the doorman of the Dungeon and thus follow Judy.
No matter which Perv Daniel decapitated, the doorman will always identify him as "Georgey Boy" and unlock the door. Also if the doorman spots Daniel he will yell "WHAT HAVE YOU DONE TO GEORGEY BOY!?" out of anger and sadness, a line unique from him.
Ad blocker interference detected!
Wikia is a free-to-use site that makes money from advertising. We have a modified experience for viewers using ad blockers

Wikia is not accessible if you've made further modifications. Remove the custom ad blocker rule(s) and the page will load as expected.