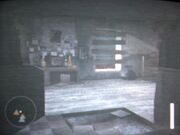 Daniel's Safe House is located in the derelict Porn Theatre in the Red Light District. Danny used this place as a hideout, where he has left himself a set up of instructions, images and newspaper clippings to remember. At the start of the level Safe House Daniel finds a photo that he had taken of Judy at the Bees Honey Pot Brothel. There are several pictures of Daniel's family and one photo of him and Michael on a fishing trip. Danny has also hidden a Revolver under his bed.
There are two T-shirt's on the floor near the bed, one of them has got a sign Eris on them (mark from Grand Theft Auto: San Andreas) and the other T-shirt has got a Sub Urban logo on it (clothing store from Grand Theft Auto: San Andreas).
The photo of Judy and newspaper clipping is a reference to the film Memento.
The photo with Danny and Michael is a reference to the film The Machinist.
Ad blocker interference detected!
Wikia is a free-to-use site that makes money from advertising. We have a modified experience for viewers using ad blockers

Wikia is not accessible if you've made further modifications. Remove the custom ad blocker rule(s) and the page will load as expected.