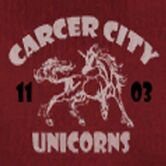 Carcer City Unicorns
is the team football of
Carcer City
. Some pedestrians in GTA IV can be seen wearing uniform with logo's team on it. It is unknow what team played,but is shore with a Liberty City football team. The team is based on Detroit Lions.
On the logo there is a single unicorn,doesn't two or many unicorns.Probably Rockstar Games forgot to put anthoner unicorn/s.
Ad blocker interference detected!
Wikia is a free-to-use site that makes money from advertising. We have a modified experience for viewers using ad blockers

Wikia is not accessible if you've made further modifications. Remove the custom ad blocker rule(s) and the page will load as expected.