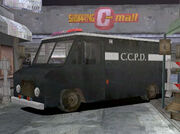 Police Boxvilles are emergency services vehicles primarily used by Carcer City Police Department in Manhunt. Cash may break into the van using the Crowbar. Inside, he may find goods like painkillers, ammunition and weapons.
The Police Van is a modified version of the Boxville, resembling a Grumman-Olson Kurbmaster. On the streets in the levels Born Again, Drunk Driving, Press Coverage and Trained to Kill.
Ad blocker interference detected!
Wikia is a free-to-use site that makes money from advertising. We have a modified experience for viewers using ad blockers

Wikia is not accessible if you've made further modifications. Remove the custom ad blocker rule(s) and the page will load as expected.