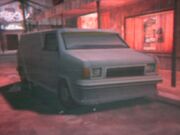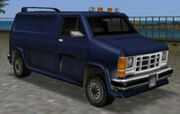 The Burrito is a van which appears in Manhunt 2 and in most GTA games.
Overview
Edit
The Manhunt 2, GTA Vice City, GTA San Andreas and GTA Vice City Stories renditions resemble a 1986-1993 Dodge Ram Van . However, while the Xpress Delivery and the Bloodhound Burrito is almost identical to the van in the GTA series, the civilian has some differences -  it has the grille and headlights of the Pony/Rumpo from GTA Vice City.
Variants
Edit
Ad blocker interference detected!
Wikia is a free-to-use site that makes money from advertising. We have a modified experience for viewers using ad blockers

Wikia is not accessible if you've made further modifications. Remove the custom ad blocker rule(s) and the page will load as expected.