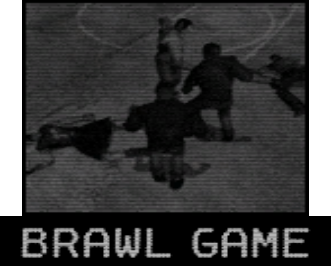 Brawl Game is the 2nd bonus scene in Manhunt, unlocked by achieving at least 3 stars in Grounds for Assault, Strapped for Cash, View of Innocence, Drunk Driving and Graveyard Shift.
Cash starts inside the Hoods Basketball Court for a fight against the Hoods, the Skinz and the Innocentz. The goal is to survive for as long as the player can. Each gang will fight each other as well as Cash. Each time a gang member dies, another member of the same gang will enter the court after a while. Just like in Hard as Nails, a Death Counter is present on the screen and will raise after every kill that is made. A Glass Shard spawns inside the middle of the court and can be used to both fight and execute. It will respawn after every 8 kills. A bottle of Painkillers will also spawn after every 10 kills. The scene will only end if Cash dies, which will bring the player to a screen where the total amount of kills will be counted.
Weapons and items
Edit
This is the scene with the least amount of weapons.
Even if the player is playing on the Fetish difficulty, this scene will not include a radar.
Several green and yellow class weapons can be spawned in this scene with a trainer and can be used to fight with. Performing executions with the green class weapons will crash the game, however.
The taunts made by the gang members while fighting against other gang members are the same as the ones made against Cash.
Smileys bodies can be seen in the loading screen.