Blista Compact
Talk

0
533pages on
this wiki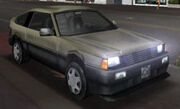 The Blista Compact is a 2 door hatchback featured in Manhunt, Bully and in most Grand Theft Auto games. It is generally considered to be a satisfactory car. In Manhunt, The Reporter drives a Blista Compact. It appears in the levels Divided they Fall and Press Coverage.
Like its design influence, the first generation Honda CR-X And Toyota Starlet the Blista Compact sports a hatchback design and a very small curb weight.
In Manhunt, the car has a Vice City license plate. Rockstar used the model from Vice City and likely forgot to change it.
This is the single civilian car in Manhunt that isn't wrecked.